UPDATED

N.B. Everyone that really knows anything at all about this is tell me that Mr. Rocco Palmo of Whispers in the Loggia fame has this all tied up and explained so well that even an auxiliary bishop can understand it.
Look at that car! And you wonder why folks are upset!
Being lazy and waiting for the inside info, I post a clip from The Guardian along with the link to the full story.
Bishop Franz-Peter Tebartz-van Elst of Limburg ordered to leave his diocese amid scandal over his alleged lavish spending.
theguardian.com
,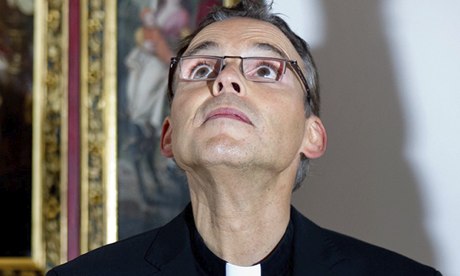 Franz-Peter Tebartz-van Elst, the "bling bishop" of Limburg, has been temporarily suspended from his post by the pope. In a statement released on Wednesday, the Vatican said it had been confronted with a situation in which Tebartz-van Elst "could not follow his duties as bishop" and had decided to allow him "some time outside the diocese". A final verdict on the bishop's future is expected after the completion of an internal investigation into the Limburg building project.
During his suspension Tebartz-van Elst will be replaced by vicar-general Wolfgang Rösch. According to the German news service dpa, the suspension would last for two to three months – but the Vatican press office said it could not comment on the accuracy of this claim.